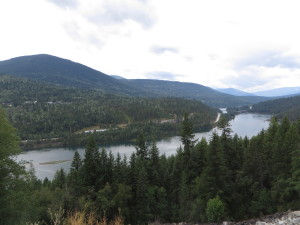 You know the old saying "If you don't like the weather in the mountains, just wait 15 minutes" has held especially true the last couple of days. Not that I'm complaining… Far from it. I'm all for some rain to take the edge off a long hot summer. What's striking is the contrast between this weekend and the past several weeks. Clear skies and constant sunshine have given way to some solid rain and even some mixed rain and snow at the Lodge. That's right, snow.
This weekend, the sky was looking dark and ominous on the drive up to the Lodge, both days. Saturday it rained pretty hard at times but I saw no lightning, Sunday however, looked especially threatening with not too distant peels of thunder and an energetic cloud deck moving swiftly across the ridge tops.
Saturday. At the 10km heli-pad, the skies opened up for a nice shower. I had to stay inside the truck to get some shots as it was coming down pretty hard.
At 12km I ran into the dirt bikers I'd passed on my way out earlier. As I had suspected it was Katie and Brad, both former Baldfacers, out for a ride to the Lodge. As part of their visit to Nelson, Katie had FB messaged me that they were thinking of heading up.
I couldn't help but chuckle as Brad was dirt biking in shorts… "I forgot my riding pants in town". Good thing it's summer… ish.
The Fireweed seems to be enjoying the weather, too.